Wai Ariki Retail
Wellness = Hauora
What is the definition of wellness? Wellness is an individual pursuit—we have self-responsibility for our own choices, behaviours, and lifestyles—but it is also significantly influenced by the physical, social, and cultural environments in which we live. Hauora is central to our Wai Ariki retail. Hauora is made up of taha tinana (physical well-being), taha hinengaro (mental well-being), and taha wairua (spiritual well-being). Here at Wai Ariki, wellness and sustainability are our main focus. We have carefully curated our retail space to reflect hauora, our history, culture, and centuries-old traditions.
Our journey has just begun and but we are excited for the future and continuing our mahi with small businesses and artisans.
The three main components to our retail are Rongoā, Taongā and Kai.
Rongoā meaning traditional Māori medicine – a system of healing that was passed on orally. It comprised diverse practices and an emphasis on the spiritual dimension of health.
Taonga refers to a treasured possession in Māori culture,
Kai being the beautiful selection of food goods on offer.
Take a look at a few of our favourite brands and artisans.
Kaelebs Kups – A local Ngāti Whakaue (Rotorua) artist. Kaeleb has created a beautiful range of pottery, with his collections reflecting Matariki and the famous Pink and White Terraces. Each are unique, so you will definitely walk away with an exclusive piece.
Wiks Candles – Wiks the owner of Wiks candles created her business on whanau values "and built on the love of little things." A mum of three boys, who taught her the importance of self-care. Wiks candles have profound scent which just make you melt. From a citrus aroma to a florally bouquet a great gift to yourself or a loved one.
Hana Botanicals – Used by our very own therapists, Hana Botanicals is a skin care brand that specially formulated to feed your skin the nutrients its needs to be healthy, radiate and glow. Hana Botanicals grow 100% of their Nātive extract ingredients in our pristine regenerative native forest, creating just the right spot for them to thrive whilst bringing home birds & bees. Hana botaniculs is a beautiful product to take home for your very own piece of sanctuary.
Mamaku – the founders, three sisters from the tribe of Ngāti Kahungunu, Tainui, Ngā Ruahine, Ngāti Rauru, Ngāti Whitikaupeka, Rangitāne o Wairau. Their vision is to validate through science on Rongoā native plants. Mamaku (black tree fern) has effective relief on eczema, skin itchiness and inflammation. An amazing natural product perfect for your mokopuna.
Manaaki – Manaaki relish produced through Omaka Marae is a small business who crafted their products using seasonal vegetables, fruits and unique native herbs, with a Māori inspired twist. A few of the vegetables and fruit are grown and harvested on the maere, and used in the relish. There is just something special about the aroha and mahi of each relish and pickle that gives it an exceptional taste.
Puha Prints – Jo an art teacher, based in Rotorua. Her work has evolved around raising her two children. Jo creativity and whakapapa are reflected through her prints in hope that people find some connection and joy in her artwork. An exquisite piece to hang in one's home, the refined prints will have anyone pondering their connection to the artwork.
Onuku – was established in 2016 by the Onuku Māori Lands Trust, located at the bottom of the mighty Tarawera Mountain. Onuku proudly supplies Wai Ariki with a variety of its honey products that include, Mānuka Honey, Rewarewa Honey, Clover Honey and Native Tree Honey.
Wai Ariki – Customers may also purchase a selection of our very own Wai Ariki exclusive products including our signature Mud products or paru, that are used through our spa experiences including those that you will experience through our Restorative Journey. But not any old mud, we have infused our Mud body scrub with kūmurahou, leaving your skin feel so soft and silky. The mud mask with kawakawa will leave your face feeling refreshed, clean and hopefully 10 years younger. The kawakawa gives it a delectable scent that is not too strong or heavy.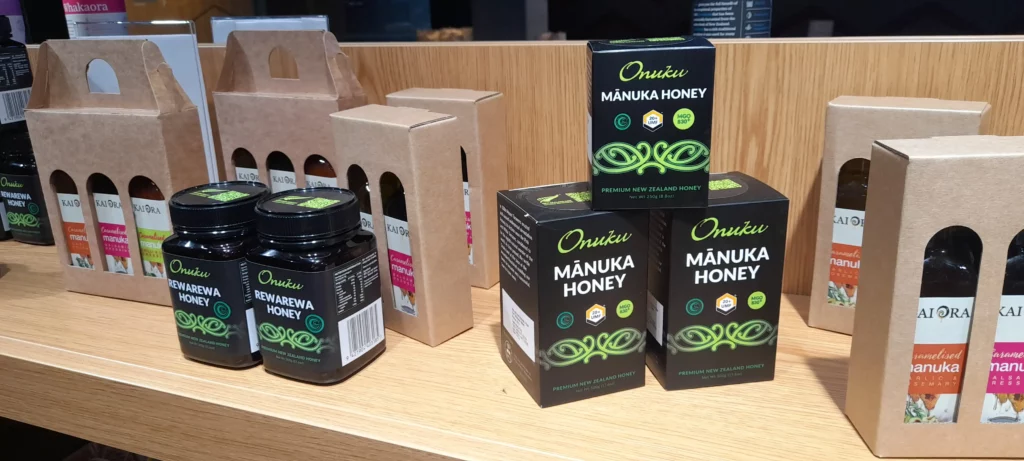 Frequently asked questions
Before your arrival, we kindly ask you to take a moment to peruse our FAQs and familiarise yourself with our terms and conditions.
We look forward to welcoming you soon.
Operating Hours
Wai Ariki is open every day of the year except Christmas Day.
Restorative Journey Wai Whakaora
Pools
Pools Daily: 9:00AM – 10:30PM (Latest arrival 8:15PM)
Private Pools
Daily: 9:00AM – 9:00PM (Latest arrival 8:00PM)
The Sanctuary Te Āhuru Mōwai
Pools
Daily: 9:00AM – 9:00PM (Latest arrival 7:30PM)
Spa Treatments
Daily: 10:00AM – 7:30PM
Café
Sunday to Thursday: 9:00am – 5:30pm
Friday and Saturday: 9:00am – 7:00pm
Subscribe
Get the latest updates and offers in your inbox