restorative journey
wai Whakaora
Restorative journey Wai Whakaora
Drawing mineral rich, deeply restorative waters directly from the earth, our Restorative Journey (Wai Whakaora) delivers a unique therapeutic, relaxing and rejuvenating experience, with every element drawing on the centuries-old legacy of Ngāti Whakaue practices and culture.
1. TE IRINGA
WATERFALL SHOWERS
The first step on Wai Whakaora (the Restorative Journey), Te Iringa -(the waterfall showers) provide a symbolic connection to the waterfalls of the ancestral lands of the Ngāti Whakaue people. Guests pass through a series of soft streams of water to energise the body and open awareness to the present before continuing on the cultural wellness journey. The experience connects to the cultural practice of taking a cleansing cold dip before entering wai ariki (the hot springs).
2. TE AHI TUPUA
TONGARIRO FIRE & ICE CAVES
Elements of te ao Māori (Māori worldview) are reflected in the fire and ice caves, inspired by the origin story of Ngātoroirangi that brought geothermal springs to the region. The fire and ice caves give you a series of hot and cold, wet and dry experiences to invigorate body and soul and provide transformative wellbeing. In Māori wellbeing practice, it is understood that moving between extreme temperatures improved vigour and stamina. Today's medical research confirms this indigenous wisdom, with studies showing how alternating between hot and cold bathing experiences can improve physical and mental wellbeing.
3. TE TAIWHANGA MATUA
MAIN CONCOURSE THERMAL POOLS
Soak up the healing properties of our geothermal waters in five pools that make up Te Taiwhanga Matua. The five pools are:
4. TE PAE PARU
GEOTHERMAL MUD LOUNGE
In the Māori worldview, Papatūānuku is the land. She is a mother earth figure who gives birth to and nourishes all things, including people. Our geothermal mud lounge experience represents Papatūānuku, using naturally occurring mud to rejuvenate and nourish the skin, and to connect with the land as Ngāti Whakaue have done for hundreds of years.
5. KOHU WAI ARIKI
STEAM ROOM
Enter steam cave, where you can rest on heated stones to further refresh and rejuvenate your skin and deeply relax your body. The Kohu Wai Ariki is inspired by the caves where Ngāti Whakaue would go to cleanse, resting in the natural steam from geothermal activity. Māori worldview describes mist as 'the soft, warm sigh' of the earth mother Papatūānuku, as an expression of love (aroha) to sky father, Ranginui.
RESTORATIVE BATHING experiences +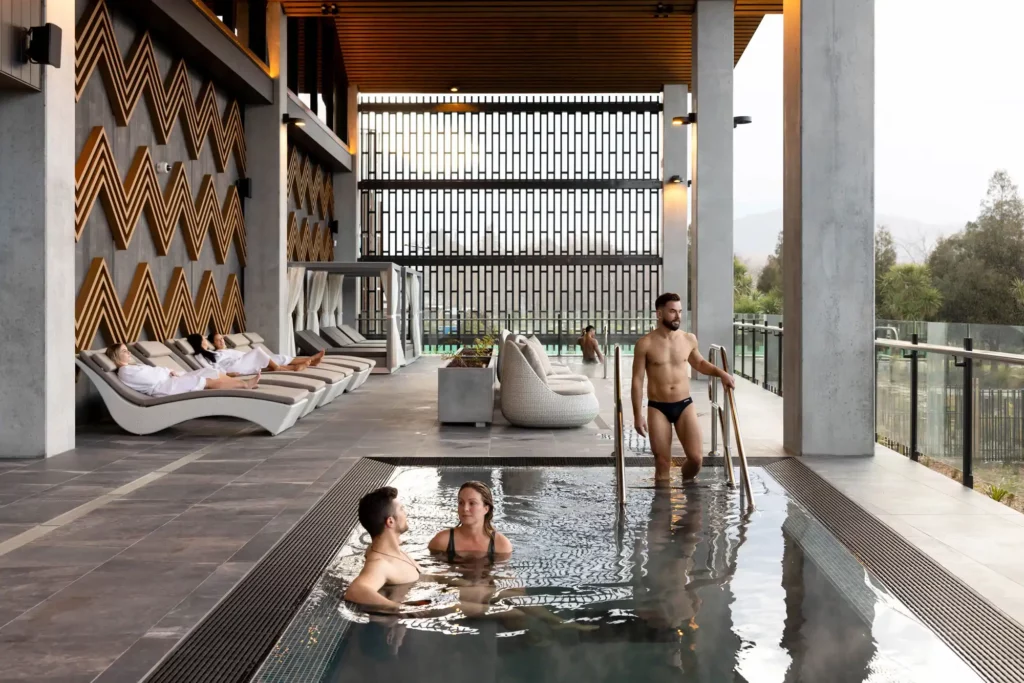 Restorative Journey + Sanctuary Bathing
Wai Whakaora + Āhuru Mōwai
Indulge in our premium bathing experience. Firstly arrive at The Sanctuary (Ahuru Mowai) to change into your swimwear before commencing on your Restorative Journey (Wai Whakaora) which combines our hot and cold facilities, bathing in our multiple geothermal pools and our signature self mud and steam experience. Next enjoy the intimate pools in The Sanctuary area which features our buoyant stargaze pool. Complete your experience relaxing on the sanctuary concourse day beds to enjoy the lakefront views.
Restorative Journey + Private Geothermal Pool
Wai Whakaora + Puna Tūmataiti
A truly exclusive experience, ideal for celebrating a special occasion. Experience the transformative benefits of our rejuvenating mineral waters and our Restorative Journey, followed by tea, water and a graze platter served in our cafe.
This package allows access for two people to your own private pool for 1 hour + our Restorative Journey.
give the gift of wellness with a wai ariki gift certificate
Subscribe
Get the latest updates and offers in your inbox